Collagen Boosted Dalgona Coffee
This rich, silky-smooth whipped coffee is taking over the internet and we wanted to put a little Just Bloom style spin on it with a dash of creamy collagen powder.
With sweet frothy foam coffee on top and milky iced latte on the bottom, this simple five-ingredient recipe absolutely crushes the competition and takes coffee "connoisseuring" to a whole new level.
Coffee lovers around the world have called this simple yet sophisticated Korean latte " a match made in heaven", even jesting that the velvety cream makes them want to levitate or feel as if they are "floating on a cloud".
We hope this recipe takes you to wherever you want to go, and helps you enjoy all of the amazing benefits that collagen creamers can provide for your overall health and well-being….Even if you are sitting at your table at home, it is still safe to use your imagination.
Dalgona Coffee With
Collagen Recipe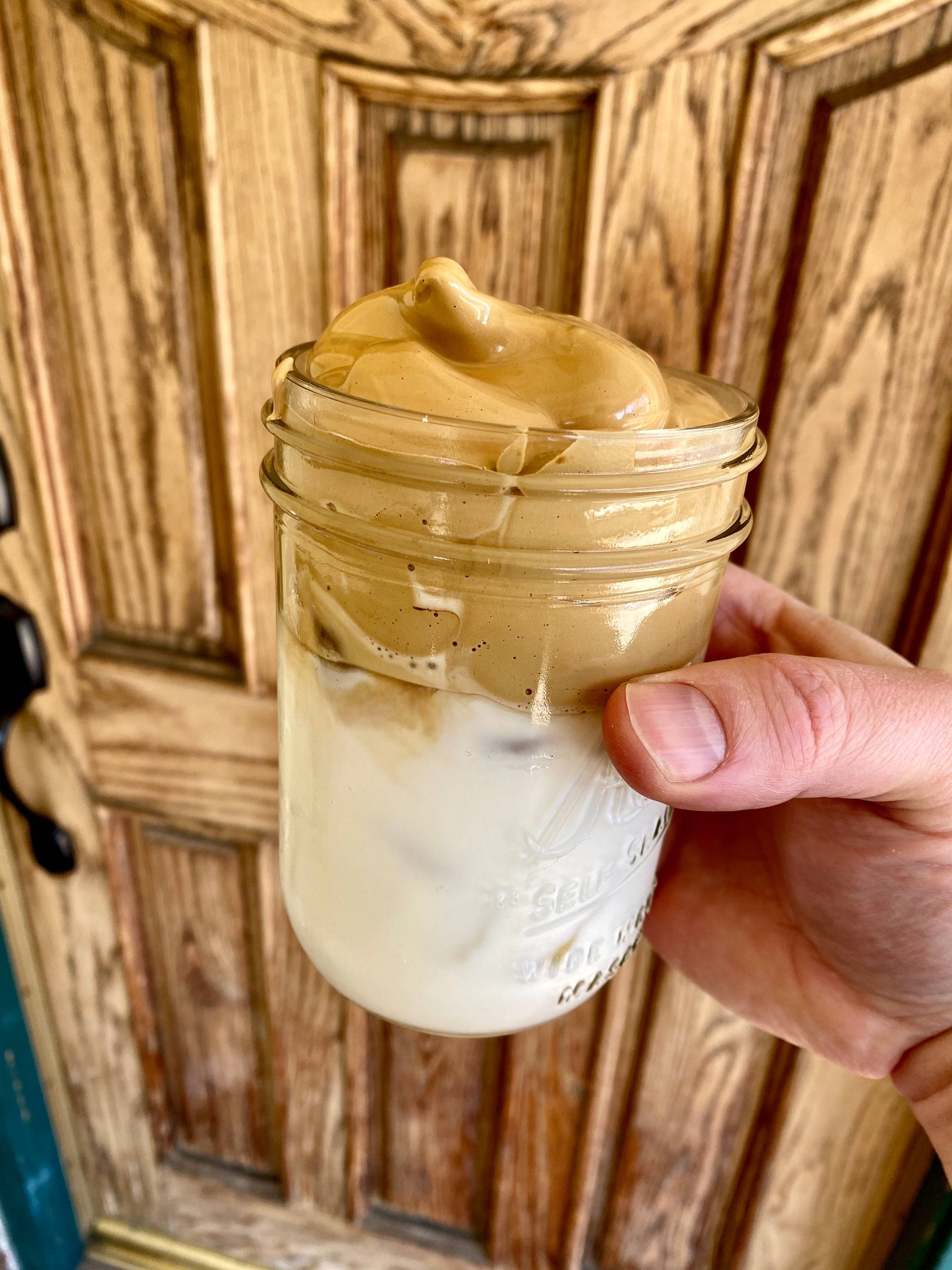 Ready in 10 minutes
Serves: 1
2 Tbsp Instant Coffee (we used Nest Café)
12 grams Just Bloom Pure Unflavored Collagen
3-4 tablespoons of natural sweetener
1 cup of milk or hot (almond milk for keto)
½ cup of ice
Add the instant coffee, pure collagen and water and sweetener to a large mixing bowl. You can use natural sweetener like agave or stevia. Syrups work best.
Using a hand whisk or eggbeater, blend the mixture on high until it is frothy and creamy. Its best to use an electric mixer if you have one. This should take about 2-3 minutes.
Taste and add more sweetener if desired or mix in some sugar if you are not keen on staying keto.
Using a standard mason jar or a tall glass (about 8 ounces/1cup) add a half a cup or 4-5 cubes of ice and pour your favorite milk on top. We used whole milk, but almond milk is also nice and creamy and has a nice sweet texture.
Using a spoon, scoop up the cream and pour the whipped coffee mixture on top of the iced. Blend or stir so that some of the coffee flavor drizzles into the milk.
SERVE AND ENJOY : )
Using Drip Coffee instead of Instant Coffee
This can be a challenge and will take a lot longer. (15 minutes of stirring at least)
Add 3 and ½ ground coffee powder and 5 tablespoons of water to a cup and let it sit for 3 minutes.
Using a filter pour out the coffee liquid, (just like making regular coffee. You want to make it strong and concentrated so the Whip keeps its taste, and form when poured onto the iced milk.
Remove any extra liquid
Add sugar, powdered collagen and whip and whisk 10-15 minutes using a stand mixer or hand mixer. PATIENCE
It should look nice and foamy and not runny. The drip coffee version actually tastes better than the instant coffee version its just takes a bit more love and elbow grease.
You got this guys, have fun and feel free to use your imagination!
Have fun Y'all!
I hope to see some of your renditions soon, so please tag us!!
♡ Just Bloom Co
…And (almost forgot) ALL ORDERS ARE up to 25% Off, Plus we are giving everyone Free Shipping through our site. Offer expires April 30, 2020.
---